CRM Distinguished Research Scholar Program
The CRM is pleased to call for nominations for its new program "CRM Distinguished Research Scholar".
The aim of this program, approved by the CRM Board of Directors at its May 2023 meeting, is to maintain researchers engaged with the CRM and support their contributions to the Institute's programs and activities.
The program provides funding for one teaching release, as long as the teaching load is not reduced under seven credit hours per week, and research funds (between $5000 and $10,000) for a period of, generally, one year.
The program is funded through support from the André-Aisenstadt and Courtois endowment funds of Université de Montréal. As a result, it is open for the moment only to nominees that are CRM members with positions at the Université de Montréal.
Nominations for 2024-2025 should be emailed in a single PDF file by November 1, 2023, at nominations@crm.umontreal.ca and should consist of:
a nominating letter from the department chair of the nominee;
a recent CV;
a letter of intent from the nominated researcher describing the planned contributions to the CRM's programs and outreach.
The selection of the candidates will be made by the CRM's International Scientific Advisory Committee (ISAC) at their winter meeting.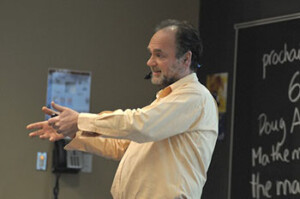 The inaugural CRM Distinguished Research Scholar is Professor Andrew Granville, approved by ISAC at its last meeting in May. An interview with Professor Granville recently appeared in Quanta Magazine.
Edited by François Fillastre (CRM CNRS-IRL visitor in 2019-2020) and Dmitriy Slutskiy, this publication [...]
The Centre de recherches mathématiques (CRM) and the Institut des sciences mathématiques are pleased [...]